Eva Zinreich, M.D.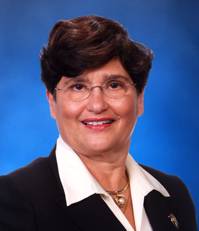 Eva Zinreich, M.D.
who is board certified in general radiology and radiation therapy, earned her medical degree at the Tirgu-Mures Medical School in Romania. She completed her radiology training at the University of Brussels Medical Institution in Belgium and then the Sinai Hospital in Baltimore.
Her residency training in radiation oncology was completed at the Johns Hopkins School of Medicine. Dr. Zinreich is Assistant Professor in Radiation Oncology at the Johns Hopkins Hospital where she is actively involved in teaching radiation oncology residents. Additionally, she teaches medical residents at GBMC. Dr. Zinreich has published 26 scientific papers, some of which deal with prostate, lung and head and neck cancers.

In recognition of her dedication and achievements, she was named a "Top Doctor" in 1995 1997 and 2008 by Baltimore Magazine. Dr. Zinreich's special interests include treatment of the prostate and head and neck cancer.
To schedule a radiation oncology consultation with Dr. Zinreich please contact

Greater Baltimore Medical Center
6701 N. Charles Street
Baltimore, MD 21204

Tel: (443) 849-2540
Fax: (443) 849-2595